Special Education: How to Make Common Core Work
"Common Core" is an emotional phrase nowadays. Some people hate it. Some people love it. From what we have heard from Special Ed teachers, their story is no different.
Special Ed students are being held to the same high standards as their Gen Ed peers.
On top of that, you don't have the time to teach more! You are busy helping your students catch up to their Gen Ed peers. Teaching more content seems impossible.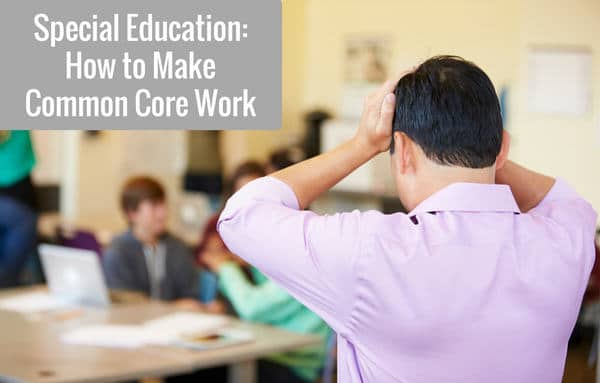 Common Core gets a bad rap because it has a massive implementation problem. This is not your fault! These standards were dropped like a bomb, without proper training or support.  In our opinion, Common Core Is the Best and Worst Thing to Happen to Education.
Teachers look at the rigorous list of all the things their students need to be able to do and get overwhelmed. This problem exists whether you're in a Gen Ed or Special Ed setting. No one knows how to fit it all in.
While this is frustrating, it opens the door for your Special Ed students to come out ahead of Gen Ed. The answer is simple: use Common Core to your advantage!
The Common Core Secret
Common Core has Anchor Standards. These are the skills they expect students to have when they graduate high school.
If you look at the Anchor Standards, you will see they are all study skills. The Anchor Standards include skills such as: "reading comprehension," "written composition," and "ability to make clear oral presentations." 
Common core is not perfect. But, these Anchor Standards do accomplish some critical things. The Anchor Standards:
Place emphasis on higher-order skills, versus rote memorization.
Establish a critical link between K-12 education and "the real world."
Bring consistency to the expectations and outcomes our young people need to meet in order to be competitive in a global economy.
We know these are all things Special Ed teachers want for their students. All of the Special Ed teachers my team interviewed mentioned that their #1 goal is to give their students skills to succeed in the real world. The good news is that the skills that make them successful in school also make them successful after school.
The Approach to Making Common Core Work for Special Ed
What if you were to teach these Anchor Standards, first? What if you were to teach them directly, as study skills?
The conventional approach to Common Core is to teach the content in the Common Core first. The hope is that students will inherently develop skills identified in the Anchor Standards by the time they reach graduation… by virtue of osmosis.
Our solution is to do the exact opposite! Schools should explicitly teach the Anchor Standards first. That can be done by teaching study skills. By mastering these skills first, students will master the subject-matter content much more easily. And, since these skills were introduced first, then refined throughout the process of learning the remaining Common Core content, your students will have mastered the Anchor Standards and the remaining Common Core standards by graduation.
This is how you can use Common Core to your advantage, and to the advantage of your students… teach the Anchor Standards first!
The SOAR® Learning & Soft Skills curriculum covers 100% of the Common Core Anchor Standards. Our done-for-you curriculum teaches your students the skills they need to succeed in college and career. It's the simplest approach to achieving the outcomes of Common Core.
To learn more about the SOAR® Learning & Soft Skills curriculum, click here.
Six Steps to
Conquer the Chaos
Get Our Free Guide & Information on...

How to Organize & Motivate Students for Success
"*" indicates required fields
The most critical learning, organizing, and communication skills needed for school. Learn more here.