You've arrived on this page because you are concerned, right? We get it. We're parents, too. Your child is an amazing kid, the apple of your eye, and you want the best for them. If you could give them the moon, you would.
You've noticed that your son or daughter – or maybe all of your children – need more guidance than what they are getting in school.   Maybe their grades don't reflect just how bright they are. Perhaps your child struggles to remember all that they are supposed to do in school and at home. Or simply, you know that your child could just do better.
They can do better! They will. You've come to the right place. Take a deep breath, it will be okay, really.
SOAR® has the right products for you to help your child, teen, or young adult succeed in school and in life. The products will change the way your son or daughter learns, the way they study, give them better organizational skills, and actually give them more time to have fun!
We have the right tools for you to guide and support your child.
---
What to Expect from SOAR®…
Students who use SOAR® immediately:
Turn in nearly all assignments. Our system is documented to be 440% more efficient and effective than traditional methods organization…
"Bottom line: Get [SOAR]… you won't be sorry! We've only had it for under a week, and it has already proven its worth 10 times over."
– S.White, mother of 10 year-old boy
Double their comprehension and double their reading speed. With one simple method, reading textbooks goes from painful to simple…
"Best study skills book ever! Using these techniques I got my first A for a university paper this year, and I have been doing a B'Ed in special education part-time for nine years. This has changed the way I work/study forever."
-Jehanne Harwick-Lee
Experience a boost in confidence that defies measurement! 
"Purchased this for my 14-year old as she enters high school. She is doing the exercises and reading it without any direction from me!"
– Anonymous parent
---
SOAR® Is Simple!
The SOAR® Curriculum is a simple set of skills that help students organize and study efficiently. Regardless if students are in 6th grade or college, the academic tasks they have to do are the same.
Therefore, SOAR® is appropriate for students in grades 6-college! (It's also a great "introduction" for 5th grade.)
SOAR® teaches students how to:  
Identify students' strengths & "SuperPowers" (according to Gardner's Theory of Multiple Intelligences)
Set goals
Establish priorities
Manage time
Organize papers, desks, lockers, & other space
Speak & listen effectively
Work with teachers & peers
Read and understand textbooks
Take notes
Study for tests
Write research papers
Prepare for presentations
Track long-term goals
SOAR® Strategic Learning Skills also covers 100% of the Common Core Anchor Standards for College & Career Readiness.
---
SOAR® Products for Families
Our core program is presented in our SOAR® Study Skills book.  However, many families prefer a more "done-for-you" approach.
That's why we created our SOAR® School Success Kit and ADHD School Success Kit for grades 6-12.  Each kit includes a scorecard to help you focus on the best strategies for you, plus videos, and all of the supplies you'll need to make SOAR® a success from home.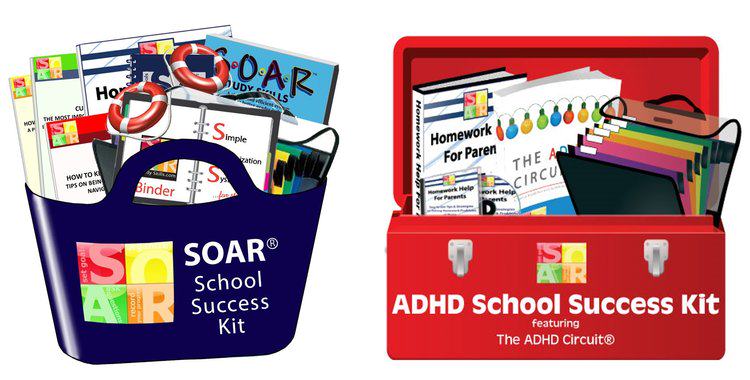 Our focus is to create and publish materials that teach study skills. Because we are not a service provider, we do not provide training to parents to teach the program. Since our kits are "multi-media," most parents find they are able to get their child, teen, or young adult to use the SOAR® School Success Kit or the ADHD School Success Kit on their own.
"My 14 year old son is going through this (program) using the author's downloadable video class and we're both loving it. I like that its not me, his mom, telling him what to do. With the video came the specific binder and filing system she recommends. We just set it up and I'm thoroughly impressed. It shows you how to streamline all those binders, notebooks, and lined papers into ONE 1′ binder! Yes, its true, and it works! This system is especially helpful with those with ADHD or just a bit careless. It will alleviate the frustration of your child not turning in work even though they completed it, or not bringing those important papers home. Its a great way for your student to get more independent without you hovering and them becoming dependent on you for remembering. I'm looking forward to the section on reading textbooks efficiently and studying for test."
– "TX2CA" – Amazon Reviewer
 But, if you feel you need extra help, do what Susan, the founder and author of SOAR® did… hire a responsible high school or college student, hand them a SOAR® School Success Kit, or the ADHD School Success Kit, and have them take your child or young adult through the program.  Simple!  The helper you hire should be older and should have a good rapport with your child.  Of course, take precautions to get solid recommendations, ensure the tutoring is taking place in your view or in a public place.  But, you're smart and knew that already.
To see all our SOAR® Parents Products, click here. 
---

All products are backed by our 100% money-back, satisfaction guarantee!
---
 SK08182015