What Are the Skills Students Need to Succeed in the Information Age?
So much has changed from the days of a single textbook and a classroom teacher.  Today's modern student is simply not equipped with the necessary skills to organize, process, manage, prioritize and learn from the massive amounts of information they encounter.  This is especially true for students in a virtual learning environment.
That's why The SOAR® Learning & Soft Skills Curriculum (aka SOAR® Study Skills Curriculum) teaches the most critical learning, organizing, and communication skills needed to be successful in school and in the workplace.  Our "original" curriculum has been preparing students for academic success for over a decade, and now we've added modules to prepare students for virtual learning as well!  Those skills include: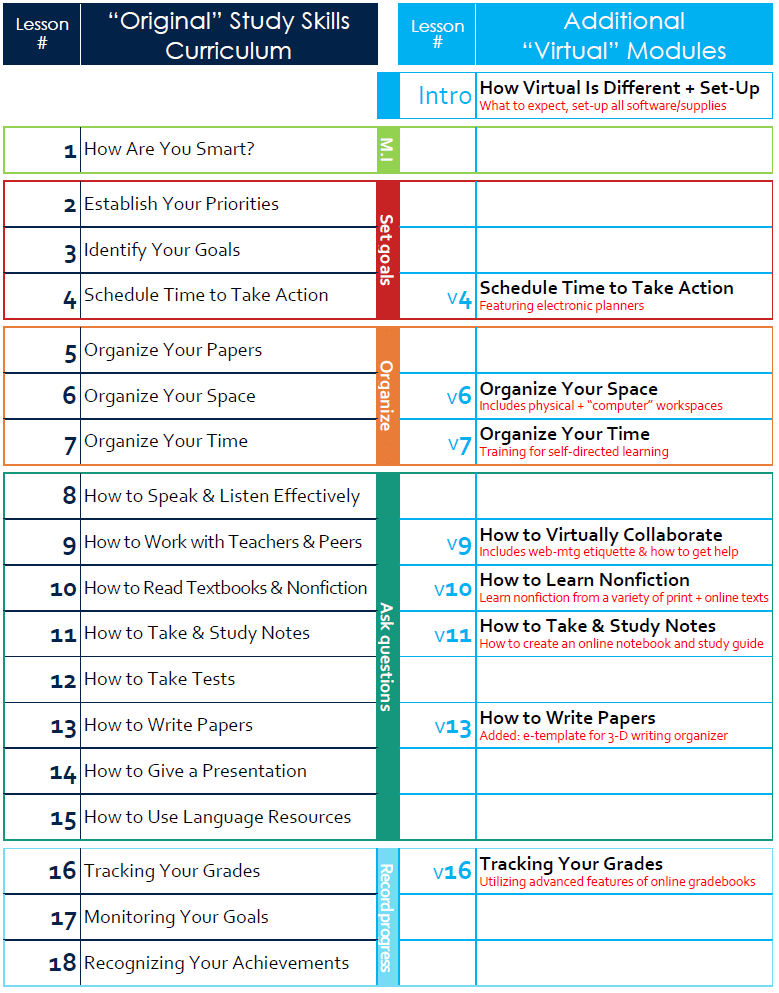 ---
What Materials Are Included?
All curriculum packages include an optional license for a set of student workbooks and/or set of student app licenses along with our Multi-Media Teacher's Guide:
SOAR® Multi-Media Teacher's Guide
The Multi-Media Teacher's Guide (MMTG) is a complete resource kit!
It includes:
Ready-to-go lesson plans.
240+ done-for-you slides with interactive visuals for guiding instruction.
Multiple assessments.
Clean, bright, colorful presentation. Great for visual learners.
Additional online resources tie the SOAR strategies to the "real-world."
A lot of support! Comprehensive instructor support is included.
"The Teacher's Guide is very user-friendly and convenient. My students like the language and identify with the skills they need to work on as they go through high school."
                   – Meghan S., Intervention Specialist

"Thank you so much for this valuable resource! I'm teaching a new study skills course this year. The (resources) you provide are invaluable. These materials are lifesavers… literally!"
                   – Deb P., Middle School Teacher
SOAR® Student Workbook
Our award-winning workbook guides students through the core strategies with practical application. Each section is written in a clear, succinct, and professional manner. The book includes many visuals and diagrams to provide support for struggling readers and enriched examples for more advanced students.
"I was getting C's and D's. Now I'm getting A's and B's! I learned how to be organized and how to study… it has made such a difference!" – Katie H., 11th grade student

"I am reading chapters in my textbooks now! It's really easy and really helps me study for tests!" – Keith Schwartz, 6th grade student
SOAR® Student App
The app covers the entire SOAR® Learning & Soft Skills workbook, presented as a self-guided course.
The Online App Includes:
✓ Interactive content/games, providing immediate feedback
✓ "How-to" videos, illustrating strategies
✓ Fully narrated slides, for reading support
✓ Quizzes/assessments, to ensure understanding of material
✓ Badges & certificates awarded for achievements
✓ Easy access from any computer or mobile device
To explore the App further, click here.
---
What Grades/Subjects Use This Curriculum?
Regardless if students are in 6th grade or a senior in college, the types of academic tasks they have to do are all the same. Therefore, the strategies in the SOAR® Curriculum are appropriate for:
Upper elementary
Middle school
High school
College
However, some skills are not age-appropriate for mastery at younger levels. (We still recommend exposing students to these skills at lower levels.)
See our Grade-Level Continuum for a full outline of age-appropriate mastery levels.
Furthermore, SOAR® prides itself on being student friendly and efficient.  That's specifically why we do NOT recommend burdening students with different study skills for different subjects.  SOAR® has masterfully identified the essential, 80/20 skills that bring proven results in every subject.  Plus, when students focus on the most essential skills, they also develop mastery, which leads to years of successful learning outcomes in school and even into the workplace.
---
What Does the SOAR® Curriculum Cost?
Explore curriculum pricing:
---
The SOAR® Guarantee
We Guarantee 100% Satisfaction!
We are so confident in the power of our program, that we offer a 100% money-back guarantee!
Our #1 goal is to make the lives of teachers, parents, and students easier!
Learn more, here.
---
More Details About SOAR®
FAQs
Assessment Options
Research Basis of SOAR
Study Skills Across Grade Levels 
Additional Supplies Needed
Professional Development 
RTI: Response to Intervention
Common Core Alignment
Who's Using SOAR? 
21st Century Skills
Curriculum Evaluation Chart
Can Your School Benefit from Study Skills?
---
SK 10122015
Free Study Skills
Curriculum Trial

Includes: SOAR Curriculum Trial Plus Report: 3 Core Problems in Education (with Solutions!) Brian Biology of Learning Videos
"*" indicates required fields
The most critical learning, organizing, and communication skills needed for school. Learn more here.
Guarantee on All SOAR® Products