Professional Development & Training
SOAR® Learning offers a variety of training options to meet your needs. Details about each option are below.
---
Web-Based Teacher Training
Web-based trainings are best for implementation with 3-10 teachers.
All trainings are customized to meet your objectives! Prior to the training session, we will schedule a 15-minute consultation to learn about your specific objectives, schedule parameters, and more.  This allows us to customize the web-based session to meet your specific needs. 
Generally, the training sessions will cover:
How to teach the strategies and motivate students for success.
Hands-on activities they can do to reinforce the concepts and strategies.
Common "complaints" and "excuses" students are likely to hear from students and how to respond to them.
How to pace the instruction to fit your schedule.
Click for more information about our web-based training options.
---
What Do Teachers Think of SOAR® Training?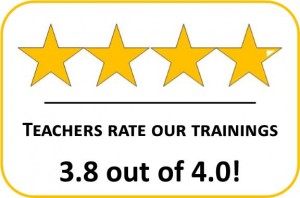 All trainings are conducted by highly trained educators. Over the years, our participants have ranked our trainings and content. We maintain a transparent database of scores and comments. Our average score is 3.8 out of 4.0!
These are just a few comments teachers have shared:
"100% useful and effective! Funny examples."

"Everything was informative and useful!"

"I loved the binder! What a simple, but effective idea."

"I would recommend this session to colleagues. It was informative and refreshing. Good energy and great examples."
---
Live Training
Live, on-site trainings are best for school-wide or district-wide implementation.  
All trainings are customized to meet your objectives! Prior to the training session, we will schedule a consultation to learn about the specific objectives, schedule parameters, and more of your school/district/organization.  This consultation enables us to best meet your objectives for the live training.
For more information about our live training options, click Live On-Site Training Proposal
---
Teacher Training Videos
Our teacher training videos are the best option for implementation with 1-3 teachers.
Grades 6-12
All curriculum packages come with the following:
Study Skills for Middle and High School (6-12) Training Video 

Grades K-5
We have several videos available for K-5.  Previews are available below:
These videos may not be available in our Store. If not, Contact Us to purchase.
---
The Next Step
After you have reviewed the information and quotes above, please Contact Us with additional questions or to book a training.
---
SK08032015
Free Study Skills
Curriculum Trial

Includes: SOAR Curriculum Trial Plus Report: 3 Core Problems in Education (with Solutions!) Brian Biology of Learning Videos
"*" indicates required fields
The most critical learning, organizing, and communication skills needed for school. Learn more here.
Guarantee on All SOAR® Products