Special Education Teachers: What Makes You Sing Like Taylor Swift?
Dear Special Education Teachers, why do you do it? You have to deal with loads of paperwork, angry parents, impossible state standards, and flack from administrators. Doesn't it feel like you're constantly swimming upstream?
Teaching has become a job, not a passion. Schools are not a warm and fuzzy place anymore. The focus has changed from the students learning and growing, to a game of numbers.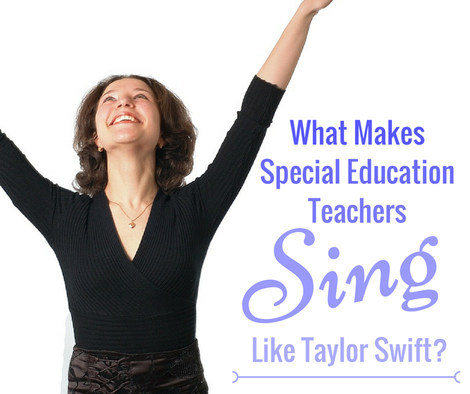 With all this negativity, what makes you all sing like Taylor Swift?
Your students.
We hear pure excitement in all your voices. It's not what you say, it's the way you say it that proves this is your calling.
This excitement is so engrained within you. You don't even realize that this is what drives you. It's what motivates you as a teacher and fills you with hope. You know you will lead your students to success.
After talking to special education teachers, we heard the same responses again and again…
"I love to see the sparkle in my students' eyes."
"Oh my gosh! The kids are the best part."
"They are the reason why I teach."
Now say those out loud with your best Taylor Swift voice. That is how high-pitched and excited every teacher we spoke to got.
The theme is simple, the students are why you teach. They are why you deal with unbelievable amounts of pressure.
Do Special Education Teachers Ever Hear Praise for What They Do?
You spend countless hours and give up your weekends for your students. The effort you put in and the time you spend thinking of how to impact each student is unrecognized. YOU are an unsung hero.
WE are here to say thank you. Thank you for your effort, your long hours, and lost weekends.
Most importantly, thank you for the passion you bring every day. You are the rock your students depend on. You are an innovator. You will lead your students to success.
Next time you are feeling burnt out or feel like giving up, remember why you started doing this in the first place.
For curriculum to keep your students SOAR®ing, click here and get our FREE Digital Review Copy. It will give you a taste of how SOAR® can help you with your goals of student success.
Keep it up,
Jessie & Kevin
---
EB 071817
Six Steps to
Conquer the Chaos
Get Our Free Guide & Information on...

How to Organize & Motivate Students for Success
"*" indicates required fields
The most critical learning, organizing, and communication skills needed for school. Learn more here.