RTI: Response to Intervention
Schools Use SOAR® Study Skills for RTI Response to Intervention!
An email from a frustrated educator…
"I work in a middle school and see the severe lack of study and organizational skills. The wheels seem to fall off these students! Most have never been taught organizational skills. But, by middle school, are expected to be independent and organized.

One of my students has severe dyslexia. He is actually better-off in school than the unorganized child. By law, the school is providing him with many accommodations to assist. Those children that lack organizational skills simply fall through the cracks. They receive no help or sympathy!"

– Nancy Drake, Charleston, SC
Every week, we are contacted by frustrated teachers like Nancy. They are irritated over the challenges their students have in school. Their students lack organization and study skills.
School psychologists in Prince George County, VA, discovered that over 50% of their referrals were students lacking organization and study skills! As a result, they formed a Study Skills Committee specifically to address these problems.
RTI interventions allow schools to provide resources to these struggling students before it's too late! Study skills, or soft skills, provide students with the skills to learn more efficiently. They can easily manage papers. They can keep track of homework. And even manage their time. Every student can benefit from these skills. However, struggling students have the most to gain!
How Study Skills & RTI Work Together…
Tier I
In Tier I, teachers can easily embed SOAR®'s strategies across the curriculum for the whole class. Our triangulated assessments allow teachers to identify students who need additional help implementing the strategies. Those students will move up to Tier II. (Get more information on Tier I Interventions.)
Tier II
In Tier II, students meet in small groups to target specific strategies for which they need support. Tier I assessments allow teachers to identify targeted small-groups. Teachers can pull additional instructional materials from the Multi-Media Teacher's Guide. Or, simply support students' application of strategies to their current classes. (Get more information on Tier II Interventions.)
Tier III
When students are escalated to Tier III, it is usually for learning challenges beyond the spectrum of study skills. However, these skills are essential for all students and continue to play a role in the individualized learning plans created in Tier III. (Get more information on Tier III Interventions.)
---
RTI: Response to Intervention Menu
See more information on RTI: Response to Intervention at the links below: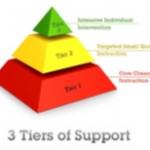 ---
SK01142015
Free Study Skills
Curriculum Trial

Includes: SOAR Curriculum Trial
+ Brain Biology of Learning Videos
"*" indicates required fields
The most critical learning, organizing, and communication skills needed for school. Learn more here.
Guarantee on All SOAR® Products