Why Is Homeschooling the Fastest Growing Segment In Education?
"The number of parents choosing to homeschool their kids is growing 7 times faster than the number of kids enrolling in K-12 every year." (as reported by Education News)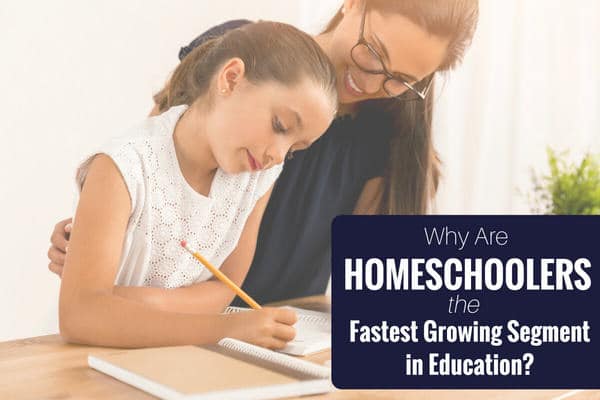 Do you wonder why that is?
Education is free in the United States and many parents enjoy the fruits of a dual-income. So, what causes a parent to choose to homeschool their child?
At its simplest form, the answer is one of two things:
1. Public schools contain something they want their child to avoid.
OR
2. Public schools are lacking something they want for their child.
As a long-term provider of curriculum for both schools and homeschool parents, we can shed some light on that question.
At its core, parents just want what's "best" for their child. They want them to grow up, be successful, and be happy. Like generations of old, parents hope their children will have the opportunity for upward mobility and to "achieve more" than they did. In order for that to happen, parents clearly understand that their children will need a solid set of skills to be successful in this world.
School used to be about acquiring "worldly knowledge." But with Google and Wikipedia alone, we have the majority of the world's knowledge on a personal device that fits into our pocket. So, what is the 21st century role of education?
It's teaching students the skills to access that information, process it, and use it to solve problems or build something new.
Some schools around the country do this very well, but others are slow to adapt. They're still focused on teaching the same content, the same way (but maybe now with an iPad to show progress), while hoping students perform better on the next standardized test.
When parents see their child's school is not adapting, is not teaching 21st century skills, is still focused on memorizing historical data and not using historical data to solve problems, they pull their kids from the school. Some of those students may go to a private school, but the fastest growing trend is to homeschool.
Here at SOAR®, we've noticed this trend as well. More and more parents are calling us to learn about what they can do at home to teach their children the skills they need to be successful in both school and the future workplace.
That's why we created the SOAR® Learning & Soft Skills App. Parents were asking for an engaging and proven approach to learning study skills and soft skills. They told us they liked our content, but doubted their child would pick up our book and read it on their own.
We get that. It's not the way this generation learns. So, we took all of the content in our best-selling book, and created a self-directed, online course that can be accessed on any device at any time. It's narrated to support challenged readers, and it's loaded with hundreds of opportunities for interaction with the content.
If you'd like to learn more about the SOAR® Learning & Soft Skills App, click HERE.
Six Steps to
Conquer the Chaos
Get Our Free Guide & Information on...

How to Organize & Motivate Students for Success
"*" indicates required fields
The most critical learning, organizing, and communication skills needed for school. Learn more here.