Free Curriculum Evaluation Tool
"Fall 2021" cannot come soon enough!
On the other hand, it can wait… we all need a break from the past 12 months of physical, emotional, and spiritual exhaustion!

As we all look forward to a fresh start, curriculum decisions for Fall 2021 are happening now, so I am writing to share my Curriculum Evaluation Chart; I created this tool for our local school district.
This interactive and customizable tool is completely free and adaptable for all subjects, in all settings (virtual or in-person). If there is an inherent bias to SOAR curriculum (there shouldn't be; the tool reflects widely accepted "best practices," but if there is…) you have the power to control the "levers" and disregard any line-items that do NOT reflect your needs or values.  You also have the ability to add your own, customized elements.
To best explain how this tool can help you, please allow me to share what prompted me to create it…

In Fall of 2019, Brian and I volunteered our time and energy to support a partnership between our local public school district and a local private school to launch a hybrid high school; it was a blend of virtual curriculum with in-person support. If done correctly, this model has amazing potential to be win-win-win for teachers, students, and families! However, we ran into a massive bottleneck… poorly designed curriculum, especially for the core subjects.

We did find some gems, but we had to dig through a LOT of curriculum that was anywhere from "meh" to "HORRIBLE." To add to the problem, our team was "Goldilocks-ing" the process… we had a reasonable understanding of our shared objectives and could identify that a curriculum was "too this" or "not enough that," but we were not able to articulate our curriculum values very clearly.

Meanwhile, we were appalled at how we (the general community of educators) allow clearly bad practices to continue; we know better! Any honest educator would have to agree some of what's out there is simply torturing the natural intellect and curiosity of a student! The vast majority of it is, at best, "dulling their senses."
Our team needed a way to quickly cull through the muck so we could get to the GEMS. With the help of Brian's wizardry with spreadsheets, we created an interactive and customized Curriculum Evaluation Tool that you can use individually or with a team.
To access the Curriculum Evaluation Tool, simply request access by filling in the form to the upper-right; look for the box with the salmon-pink background. (The Curriculum Evaluation Tool is part of our "Roadmap: How to Navigate Virtual Learning," but applies for both virtual and in-person curriculum.)
Once you have submitted your request, your Curriculum Evaluation Tool will be emailed to you.
I hope that this tool will allow you to quickly find your optimal curriculum for Fall 2021, so you can get some well-deserved rest after the longest year in the history of education!
To your rest and our students' success,
Susan
Get Our Free Guide
The Roadmap: How to Navigate Virtual Learning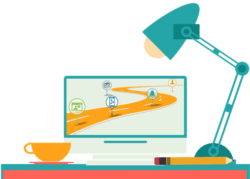 * Why Virtual Is Different * * How to Set Up for Virtual Learning ** How to Evaluate Curriculum ** Curriculum Evaluation Tool * And More...
"*" indicates required fields
The most critical learning, organizing, and communication skills needed for school. Learn more here.
Guarantee on All SOAR® Products